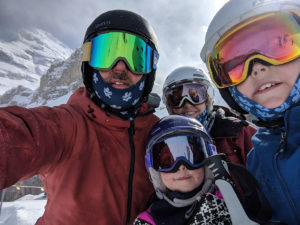 Shot 22 is the home for all digital work by Tim Roberts. For more than 20 years I have been working online building websites and creating content. I've seen the internet change in many ways, but, one thing has always been true. Good content delivers results.
For a number of years I worked with Ski Utah promoting Utah's ski resorts and tourism industry. Additionally I have completed hundreds of projects for a wide range of clients including Traeger Grills, Idarado Media, Maverik, The Bureau of Land Management, The Utah Office of Tourism, Snowbird Resort, Deer Valley Resort, Squatters and Wasatch Beers, The City of Ogden, Ken Sanders Rare Books, NJRA Architects, Click Medical, and more.  I have also worked in television having produced dozens of episodes of The County Seat and At Your Leisure on ABC 4 Utah.
The name Shot 22 comes from one of my all-time favorite ski lines at Solitude Mountain Resort in Big Cottonwood Canyon, UT. To get there you'll have to hike up the iconic Fantasy Ridge, which is usually enough to keep the crowds away. It's called Shot 22 because it is the 22nd spot along the ridgeline that ski patrol is likely to throw avalanche bombs as they prepare to open Honeycomb Canyon. Anyway, I owned the domain, so, here we are.
If you'd like to learn more about Fantasy Ridge at Solitude, watch this video I made 7 years ago.